CAPABILITIES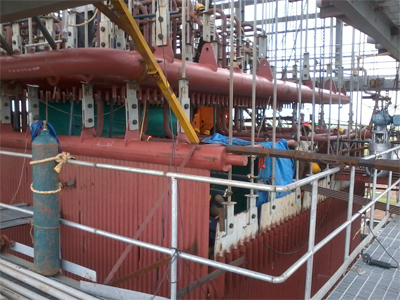 We offer a wide range of services for modifying or expanding existing processes / projects. We have a proven track record in designing and commissioning more than 90 new production facilities and systems in India and abroad. We also manufacture tailor-made critical equipments for specialised industries at our Surat and Rudrapur plants.

We are also approved contractors for Super Critical Boilers from IBR Authority of India across several states.

We have the mindset, resources and experience to undertake challenging projects. Our commitment and involvement in planning and implementation of projects based on different technologies, has earned us an international reputation for efficiency, integrity and successful performance.

Fabrication and Supply
Design, fabrication and supply of plant and equipments, Polyester Chips Dryer System and Accessories, Installation of Plants, Heavy Structural Steel, Alloy Steel and Stainless Steel fabrication as per International Standards.


Piping
Sizes from quarter inch OD to 60 inch OD designed, fabricated and installed to suit exact requirements in materials ranging from Carbon Steel and Stainless Steel to Aluminium and Alloys. Piping and ancillary supports, Cross-country pipelines with 100% Radiography welding.

Site Fabrication

Design and fabrication of pressure vessels as per International Standards in Stainless Steel, Alloy Steel, Carbon Steel or other materials for Chemical Plants and other industries. Fabrication of Storage Tanks and modification of existing Tanks, Vessels/Reactors to suit clients' requirements

E P C Projects

Installation of Vessels/Reactors, Main Plant Equipments, Columns and Heat Exchangers for Petrochemical Plants, Refineries, Power Plants and other process industries. Perfect levelling, alignment and fixing as per sequence of erection procedure including hydraulic/pneumatic testing and commissioning.


Plant Dismantling and Re-installation
Pre-evaluation, Preparation of drawings on 'as built' basis, Marking of items / equipments as per sequence, Dismantling of complete plant, Packing and shipping from anywhere in the world, Re-installation, Incorporating modifications and commissioning.

Electrical Instrumentation

We also undertake Electricals and Instrumentation, Supply and Installation work like Substation, Distribution systems, Electrical cabling and Connection, DCS, Control room, Control cabling and Connection for Petrochemicals, Refineries, Power Plant and other process industries,.